Shopping Cart
Your Cart is Empty
There was an error with PayPal
Click here to try again
Thank you for your business!
You should be receiving an order confirmation from Paypal shortly.
Exit Shopping Cart
This is our information center. In this page we will post the most clear and useful information about Korg PA Styles, Sounds, & Sets and how to create your own korg styles.
Watch this INSTALLATION GUIDE on YOUTUBE.

1- When you purchase one of our packages, we will send you an email containing a download link, with instructions how to download the purchased package. So, first of all, login to your email and open our email message sent by Lamios Music. You will find a download link with instructions.
2- Read all the instructions within the email body, then click on the available link and download your package.
3- Save your downloaded package (zip file) on your Desktop.
4- Unzip the package on your desktop using FREE WinZip software.
5- Open the INSTRUCTIONS file and read it carefully.
6- Open the SET folder to see its contents.
7- Bring your USB stick and attach it to your PC.
8- Copy the unpacked SET folder and paste it on your USB stick.
9- Remove your USB stick from your PC.
10- Attach your USB stick which contains the unpacked folder to your Korg PA keyboard and wait until all messages disappears from the keyboard screen.
11- Press on MEDIA button on your keyboard.
12- Press on the DISK button within the screen of your keyboard and choose USB.
13- From the keyboard's screen press on the package's name then press Load then Yes.
14- Press on EXIT button on your keyboard.
15- Press on STYLE button on your keyboard then press on Fav/User within your keyboard's screen and choose your desired style.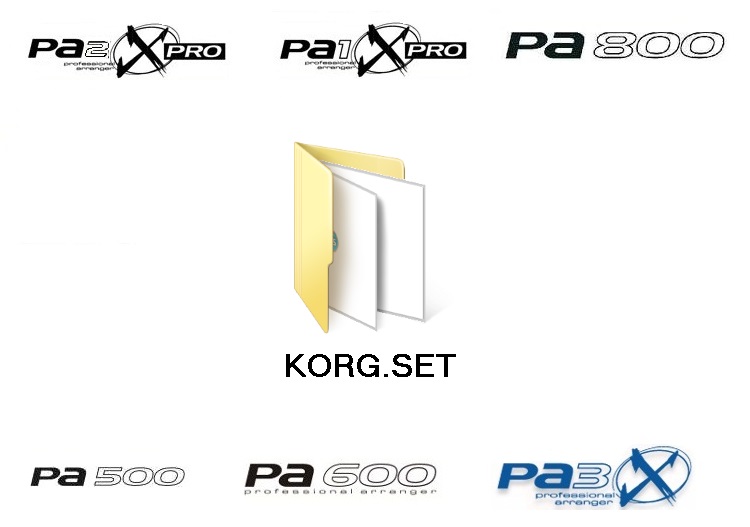 In Global folder 1, you can load the microphone effects, you can load the korg equalizing settings and line out settings or both if you choose to load the entire Global folder.
Multismp folder 4: When you save a sound, the information, "keymap" to these multisamples, is stored in this folder.
Pad folder 6: In this folder the User pads are stored. User pads can be made with internal korg sounds, with new sounds or wav loops sliced into small sounds.
PCM 8: When you load a new sample sound, on pa600, pa2x, pa3x, your korg keyboard will store this new information (wav) into multi PCM files. You can't view or edit which sounds are stored inside this folder, the shortcut to the RAM sounds will be stored in the folder Sound 12, the sounds should be loaded there but if the pcm 8 folder is missing or corrupted, the ram sounds can't be loaded.
Perform bank 9: Here are stored all the user performance banks (styles and sound settings).
Songbook folder 11: Song book is a more complete performance bank, you can save lyrics, make your own performance lists and other settings that can't be found in the performance bank.
Sound 12: Here you can find your user sound names and user drum kits (userdk). When you open the set file and load one sound from here, the korg will look for the sound samples and load them automatically.
Style 13: Here you can find your favorite bank styles and user styles, remember that if you load a style directly from this folder, only the Korg ROM sounds will be loaded when you play the style. If that style was built with Ram sounds, you must identify which are they and load them from Sound 12 folder one by one.

/